It's a bit odd that me, the Twitter naysayer, nay the Twitter heretic! is doing the twitter posts.
Anyway i said last week (was it last week? maybe two weeks ago) that i would post back here with an update on how we were doing on Twitter.
Well, incremental progress i'd say, we started out with 0 followers (well that's not entirely true Twitter do lob you some randoms just to make you feel loved) but scientifically, we started out with 0, and we now have… 6!
That's a 600% increase in just two weeks, i've plotted this below.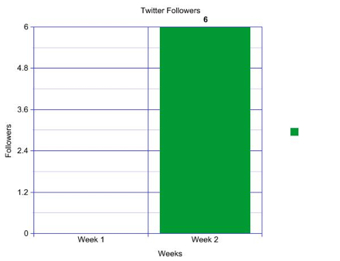 The only way is up for The BeerCast on Twitter, in fact if we go up any more i'll have to increase the scale on the graph, we'd be quite literally 'off the scale' with followers. So join us and help us push the Twitter Totaliser off the top and into the sky! (whereupon we'd employ the use of skyhooks).
PS: After thought, this post will appear on Twitter, and soon we'll have a sidebar widget on this page that will show our twitter updates, surely this will set up and infinite loop into which the internet would disappear? Answers on a postcard.
Andy